Writers
Articles
Top 13 posts of 2013
As Lesbilicious looks forward to a year full of tasty lesbian content, we bring you our top 2013 hits. 1. If you're going to trash trans people online, don't be surprised when they kick you out of their club First up [...]
Articles
Blue is the Warmest Color: A review
***SPOILERS*** First impressions? Wow, there's a feckload of close ups! Give me Adèle's face smeared in Bolognese oil one more time and… well, just don't. Ok? This arty French flick is the latest lesbo hit to come out of the [...]
Articles
Genderf*ck? There's a label for that…
Hattie Lucas' article last week got a lot of attention. For those of you who got a bit lost in all the labels being thrown around, here's a quick guide. Sex This is the easy bit. Someone's sex is the [...]
Articles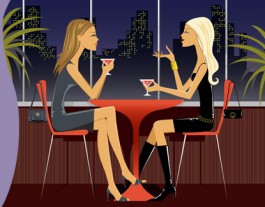 9 signs you're on a lesbian date
So you've got your best crisp white shirt on (that took FOREVER to iron), a quick slick of lipstick and a comb through your hair. This means one thing – the big date. But what should you expect? Read on [...]
Articles
Gender-neutral kids books: Like putting Dynamite under a Kindergarten…
Jesper Lundqvist, yoga instructor, writer and parent, hit Swedish headlines last year with his book Kivi and Monsterhund. Sophie Cairns catches up with him on the continued reactions his books are receiving. Interviewing Lunqvist is like interviewing an eager young [...]
Articles
Stockholm: Europe's first transgender locker-room
*Correction: Serny Carpvik is intergender as opposed to a transgender woman as previously noted. Therefore, they will be referred to with the pronouns zie, zir, zir, zirs, zirself. Sweden markets itself as the most tolerant nation of Europe, but with [...]
Articles
Ireland: Resounding victory for marriage
Last weekend a constitutional convention debated and voted over gay marriage in Ireland. Made up of a third of politicians and two thirds ordinary citizens, the convention voted overwhelmingly with 79% recommending the constitution be amended to allow for same [...]
Articles
LGBT Soup for a reason
(Bear in mind, I'm a great fan of GCN – reading it cover to cover whenever I can get my hands on it. However…) Yesterday an article was published by GCN (Gay Community News), a free magazine for the Irish [...]
Articles
Lucy Meadows: Teacher, Neighbour and Friend
Imagine slipping out the back door to work every morning to dodge the paparazzi. Leaving for work early and departing late to avoid harassment.Having to contact the Press Complaints Commission to stop journalists and photographers lurking outside your workplace. This was [...]
Articles
IVF on NHS for lesbians and over 40s
Lesbian couples and women up to 42 will be allowed IVF on the NHS in line with the latest review of guidelines. Previously, only women up the age of 39 were allowed IVF on behalf of the NHS and lesbian [...]
Articles
It's V Day bitches!
Alright ladies, it's Valentines Day in 4 days, let's get this shit together. What do you get for the darling dearest who has everything – the L Word mug, Lip Service boxset, the permanent coffee table arrangement of flowers and shit [...]
Articles
10 hottest women of 2012
As Lesbilicious rings in the New Year, we give you the 25 hottest women of 2012. 1. Sofia Vergara Cheeky yet sofisticated, Sofia Vergara is one hot mamma. With her flowy tresses, ample bosoms and columbian accent, who could say no? [...]
Articles
Where's the T in LGBT rights?
Last week Carrie Lyell wrote a piece about the release of a gender-neutral toy catalogue in Sweden, just one of a number of gender cleansing actions inviting us to consider emigration there. But while it seems that the Swedish government and [...]
Articles
Transgender Day Of Remembrance
Today, across the world marks the Transgender Day of Remembrance (20th November 2012). A day to memorialise those killed due to transphobia – the hatred or fear of transgender and gender non-conforming people – and raise awareness to the continued violence endured by the transgender [...]
Articles
Ireland – is transgender the new black?
In the coming weeks, the Irish government is scheduled to announce legislation in relation to transgender people. I should be happy about this. I should be hitting up interflora for my girlfriend and browsing Tesco's finest cake isle for the [...]
Articles
Get your rosaries off our ovaries
Standing polishing cups at work on Saturday I noticed something big. Thousands of protesters marched toward me campaigning for pro-choice in Ireland. I work in City Centre Dublin, overlooking O'Connell street, but never have I seen anything quite like this. [...]
Articles
August Gay Prides in the UK
Last month I posted up a list of the UK's Prides for July. Here's your Augustly update. Get out there and rock those rainbow socks! Liverpool Gay Pride, said to be the biggest free Pride festival in England, kicks off [...]
Articles
July on the 2012 Pride Calendar
With the World Pride Parade just two weeks away, it's time to see what the UK has in store for July.  The Pride London Festival started its life in 2006 hosting EuroPride. Today, it kicked off World Pride 2012 with [...]
Articles
Zappone and Gilligan: A fresh fight for marriage
On Wednesday, Ireland's Senator Katherine Zappone and Dr. Ann Louise Gilligan announced a fresh fight to have their Canadian marriage recognized at home. The new case, to be heard in the High Court, is to test the provisions of the Civil [...]
Articles
Contention as consensual gay convictions cleaned
A new law passed this week means thousands of British gay men will have historic homophobic convictions removed from their records. Passed on Monday, The Protection of Freedoms Act allows an estimated 16,000 gay and bisexual men, convicted of 'loitering [...]